Economic Growing Pains: Slower Supply Chains, Limited Supply Pointing to Increases in Prices and Lead Times
The world is opening back up and that's a good thing. However, as elements of our economy open back up it's not as if we can just pick up where we left off a year or so ago. As commercial and consumer spending shifted around the world, so to did our global supply chain. If you're reading this blog you're probably familiar with the historic rally in the Copper commodity market over the last year but what you may not be hearing about is that we're seeing inflationary pressure across the board. The major drivers have been grouped into the following categories:
Copper (Conductor Material)
Compounds (Insulating and Jacketing Material)
Logistics (International and Domestic Shipping)
Packaging (Lumber and Cardboard)
I'll share a number of charts that track the prices of each commodity to give you a sense of the dramatic increases we've seen over the last year or so. One important thing to keep in mind, these commodity prices represent the material in their raw forms. To transform them into useable materials for wire and cable they must each undergo processes which add to / amplify the increases.
A second important (and confounding) factor putting upward pressure on prices is that none of these factors consider the delays at all US ports of entry (as long as 6 weeks unloading material), or the driver shortage affecting the trucking industry which are contributing factors to a nationwide shortage of these raw materials.
It's a perfect storm, and it may get worse. From where I sit today, all indications seem to point to continuing increases in prices and lead times.
Let's start with copper. For the last couple years, COMEX Copper has traded between $2.50 and $3.00/lb. For reference, the all-time high price topped $4.47 in June of 2011. A few weeks ago, copper climbed as high as $4.34/lb and is currently around $4.19/lb which represents a 100% increase since March 22, 2020.
As I mentioned earlier, this is just the raw material in its basic bar form. Before it can transmit your signal, the copper is melted down, drawn and rolled into rod which is then drawn down to 9 gauge in the intermediate drawing process and then depending on the wire being made will get a fine drawing to say 23 gauge for Cat6 conductors or for stranded products like speaker wire, it needs to be drawn down to 30 gauge where 65 fine strands get bunched (twisted) together before they can be insulated. Several of these processes could take place in different factories or different parts of the world. All of these steps add to the price of "usable" copper and increases of course are amplified as the raw materials get closer to becoming a final product.
While copper is a major driver of material costs of wire, it's far from the only factor. If you've ever terminated wire (or really taken a close look at it) you'd see other materials for insulating and jacketing that are made from various types of plastics (yes there are non-plastic materials involved too, but I'm not getting into those here.). Those insulating and jacketing compounds (polyethylene, propylene, etc.) are petroleum based and as Crude prices increase so to do the compound prices.
In addition to Crude Oil prices having increased increased over 300% in the last year, there are even more critical factors at hand for the resin markets. Back in late February a storm hit Texas and shut down approximately 80% of US resin production. and while most resin reactors have restarted, most producers remain under force majeure and allocations are intact. The problems in the US don't exist in a vacuum and as such the sector is experiencing "severe shortages of raw materials and [unprecedented] price increases," according to the European Plastics Converters (EUPC) association. According to the PlasticsExchange, "This Polypropylene environment has been like none other in our 20 years of making spot resin markets."

The end of the manufacturing process also has some surprises for us as well. The cost of lumber is at an all-time high (as of today it's $1,212 per 1,000 board feet). Wood products (think everything from lumber used to frame your house to wood pulp used for toilet paper to cardboard boxes used to deliver your packages) are all effected and so too are the costs of our reels, boxes and skids used to package and carry your wire.
Logistics costs have been another dramatic source of price increase and limited supply recently. Driver shortages have plagued the trucking industry for a few years now and in addition to rising prices at the pump, trucking companies are having to increase wages to attract more drivers. And as far as International logistics are concerned the problems are even more complicated.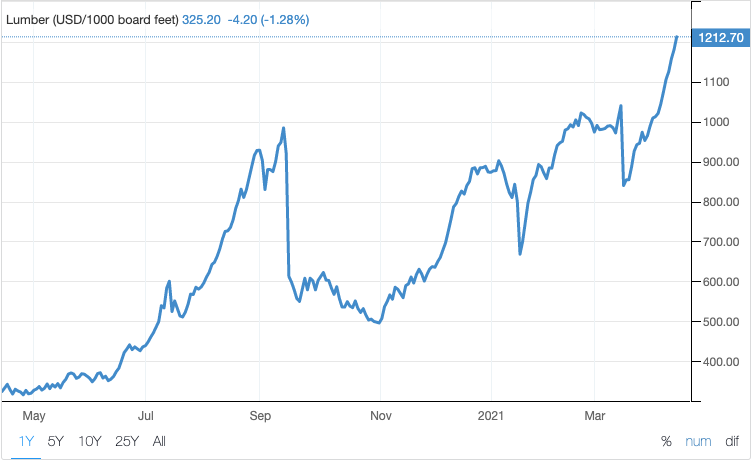 Lumber Prices April 2020 - April 2021There's a shortage of shipping containers that's partly due to the box makers themselves cutting back on production ahead of the lockdown only to be met with unforeseen demand from US consumers buying all sorts of pandemic-rated goods (think IT equipment to work from home, DIY improvements, PPE, etc.) The result has been that shipments that used to take 4-6 weeks and cost $2,000 are now taking 12-14 weeks and cost $8,000.
If you're still reading at this point, I think you get the idea. Our global economy is surging in some unexpected ways and the short-term effects have clearly resulted in a slower supply chain with higher prices. I don't pretend to know when prices will cool off and lead times will return to normal, but if you're business counts on wire to get the job done, please plan accordingly, I know ours is!
David Coleman joined the Paige team in 2016 as the Senior Vice President, Business Development for Paige DataCom Solutions and our parent company Paige. David brings to Paige over 15 years of management experience since his beginnings at Genesis Cable Systems.
David Coleman
VP of Business Development
Leave A Reply
Your email address will not be published. Required fields are marked *